Micro-Needling
Here at the Hair Clinic we use micro-needling to increase absorption of the hair lotion prescribed. Research has found penetration of topical lotions can be increased by 5 or more times than using topical lotion alone. Micro-needling encourages the skins repair and natural growth factors.
Greatly increases topical product absorption

Triggers skins natural healing factors -Stimulation of stem cells induces growth factor activation

CIT Collagen Induction Therapy -Stimulate new collagen cells

Reduces appearance of scars by breaking down scar tissue structure (e.g. hair transplant scars)

Reduces pigmentation

Increases blood flow

Reduces fine lines and wrinkles

Tighten smooth and brighten skin and improve texture firmness and tone

Breaks down excess of sebum
NCBI National Center for Biotechnology Information: Abstract from - International Journal of Trichology
A Randomized Evaluator Blinded Study of Effect of Microneedling in Androgenetic Alopecia: A Pilot Study â??In the Microneedling group, 41 (82%) patients reported more than 50% improvement versus only 2 (4.5%) patients in the Minoxidil group. Unsatisfied patients to conventional therapy for AGA got good response with Microneedling treatment."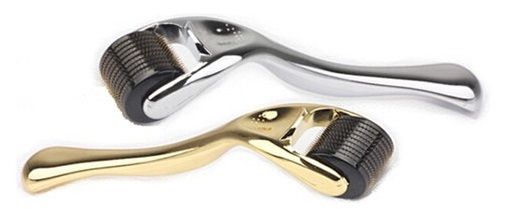 Choosing the Micro-needle size for home use:
0.25mm: A great length for daily or every other day use to aid scalp lotion penetration. Suitable for new users and people with delicate thin skin.
0.50mm: Once to twice a week when used on the scalp for lotion penetration. More frequent use may in advised by the Trichologist in certain cases such as when there is a need to reduce scar tissue due to hair transplant surgery.
Longer length needles should only be used by a professional during clinical treatment, we do not supply these for home use.
How to use: The scalp should be rolled before applying your treatment lotion.
Pre-rinse the roller under warm to hot water (not boiling). Applying a light pressure roll in one direction to lessen the chance of hair tangling. As you become more experienced you may like to change direction patterns. Apply lotion.
During treatment you may see tiny specks of blood which is quite natural, I suggest leaving these specks present as they will dissipate during the lotion application. The scalp skin will appear red and may have a slight swelling, however this is more noticeable when treatment is carried out in the clinic using professional length needles.
Cleaning your Micro-needle roller after each use: Add a small amount of shampoo in to a bowl add warm water then place the roller on its back and allow to soak for 10 minutes. Do not leave the roller over 30minutes as this will damage the rubber section.
Sterilising your Micro-needle roller: Use surgical spirit, this can be either sprayed over the surface of the roller or the roller can be dipped in to the surgical sprit for a few seconds then allow to dry naturally.
Replacing your Micro-needle roller: With regular gentle daily use, we suggest changing your roller every 3 to 6 months.
Dont's
Never share your roller with anyone else

Do not use on inflamed damaged skin

Not to be used if you are on blood thinning medication

Not suitable during pregnancy

Not to be used if under the age of 18 years

Do not use on animals