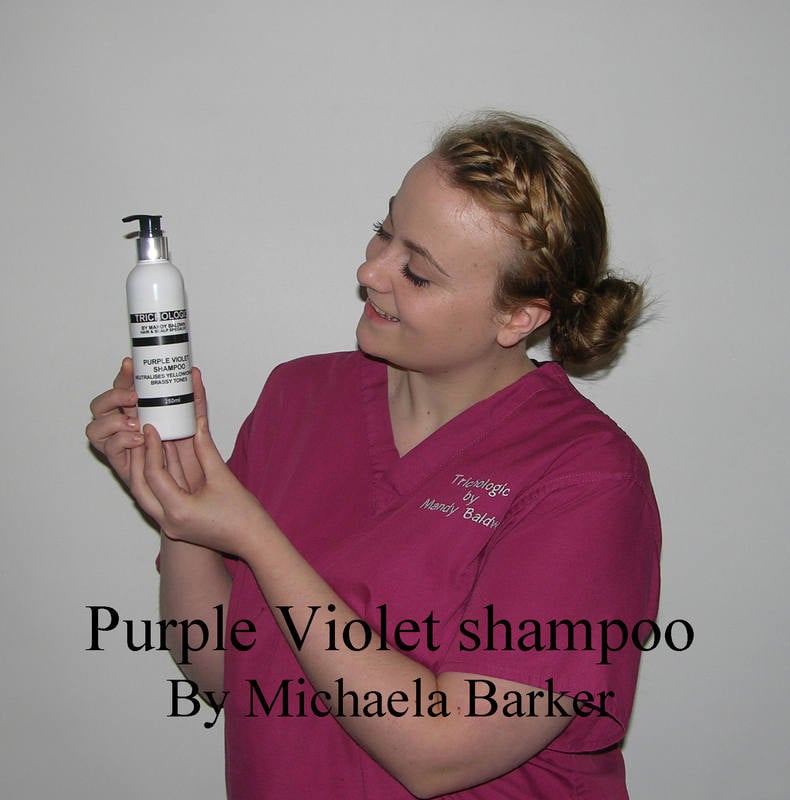 Purple Violet Shampoo
I JUST LOVE BEING BLONDE! So want it to be fresh all year round! personally Purple Violet Shampoo is a clinic favourite of mine and is definitely something I always like to have in my bathroom cupboard for those "bad hair days" When using Purple Violet Shampoo on my clients or myself I massage it into the hair as I would any other shampoo and leave on up to 5 minutes, rinse the hair and condition as normal, after the hair is blow-dried myself or my clients are always happy with results knowing our blonde looks noticeably fresher after only one wash! I am prone to developing a red pigment on my hair when my colour starts to look old and am due to get my hair done, purple violet shampoo rids me of those brassy and yellow tones and is a kind and gentle way of renewing my blonde. As I'm trying to grow my hair I find it gives me that extra boost without using chemical processes in-between getting my hair coloured. I tend to use this product even when I have darker colours going through my hair as well as the blonde to neutralize them gold/red tones that shine through my dark lowlights. I find my bottle lasts me a while as I like to use Purple Violet Shampoo once or twice weekly only or before I go on a night out.
As a professional hairstylist I understand that our hair is like a "Crown to a Queen" without her crown looking its best she doesn't feel as royal therefor when my blonde starts to look old and dull I don't quite feel myself. I like that Purple Violet Shampoo is a quick and simple solution to achieving the look I want and has a light pleasant sweet scent that I love!
I would defiantly give Purple Violet Shampoo an A+