AIM Cover Thickening Spray DARK BROWN
---
AIM Cover Thickening Spray DARK BROWN
£15.00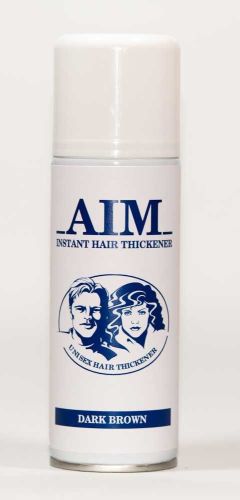 See the video
https://www.youtube.com/watch?v=VjPG05BCVNc
AIM hair thickening spray is a scientifically formulated cosmetic product developed to help men and women with the problem of thinning or fine hair.
It is completely safe to use and is being used by transplant clinics, trichologists and hairdressers. It is suitable for all types of hair loss.
It does not affect hair growth but gives you a thicker head of hair within seconds.
AIM can complement hair transplants by improving the thickness of hair when not completely achieved by the transplant. It can also be used between transplants very successfully.